Media: Videos
Live Performances by Marco Granados
Click here for the Photo Gallery
The Granados Music Institute offers a new, groundbreaking program for aspiring flutists. This training program is ideal for flutists who want focused and intense study preparing for auditions, graduate or post-graduate work, and help with developing their professional careers and artistic projects. Through a comprehensive curriculum, its aim is to cultivate the skills necessary for artistic success in the 21st century, including creative problem solving, entrepreneurship, teaching artistry, and a thorough understanding of the science of both the instrument and the mind.
Our mission is to train flutists to become:
➢ Masterful musicians
➢ Curious, life-long learners
➢ Passionate contributors to their musical communities
Located in beautiful Flagstaff, Arizona, The Granados Music Institute is founded by international flute soloist and master teacher, Marco Granados, and Anna Conigliari, flutist and life-coach for musicians.
Please note: Classes start September 13, 2017. Apply Now to reserve your spot.
Latest Tweets



Excited to announce the official start date for The Institute is September 13, 2017! Please check out our website,
tinyurl.com/hwem9z7
Curriculum Overview
The Granados Music Institute is geared toward the development of flutists at the graduate and post-graduate level. Spanning the duration of an academic year, The Granados Music Institute offers a comprehensive, two-phase program whereby each phase is intended to develop a specific skillset. The curriculum is designed to help give each participant the support they need through individual lessons and private sessions, combined with courses that will help create the skills every musician needs.
Phase One:
Dates: September 13 – December 20, 2018
Phase One Weekly Curriculum:
• Two private flute lessons per week
• One private life coaching session per week
• Masterclass
• Orchestral Excerpts class
• Becoming a Teaching Artist course
• New Approaches to Pedagogy course
• Class on Inspiration
• Chamber ensemble coaching & concert development
Phase One Skillset Developed:
• Flute mastery, including scientific knowledge about sound and technique
• Interpretation
• Awareness
• Tools for mental and musical assessment
• Tools for new approaches to teaching and audience involvement
• Creativity
• Independence in forming chamber groups and concertizing
Phase Two:
Dates: January 15 – May 12, 2018
Phase Two Weekly Curriculum:
• Two private flute lessons per week
• One private life coaching session per week
• Masterclass
• Orchestral Excerpts class
• Project Development course
• Course on Marketing and PR for musicians
• Chamber ensemble coaching & concert development
Phase Two Skillset Developed:
• Flute mastery, including specific phrasing strategies for full range and expression
• Turning musical curiosity into viable projects
• Career coaching, including options beyond the symphonic and teaching career
• A holistic approach to auditions and performances
• Website development, social media strategies, networking strategies
• Audio and video recording and editing
Please Email us for a course description catalog.
Course Descriptions
Teaching Artistry
Teaching Artistry is the way and technique by which an Artist creates for an audience, a living aesthetic experience in order to create a link that allows said audience to experience the art the way the artist experiences it themselves. This course is designed to prepare musicians to communicate with all types of audiences. Over the course of first phase, students will acquire skills – going beyond musical technique and artistry – to help them create meaningful and authentic experiences to engage audiences in a variety of contexts. Students will also focus on designing an interactive concert experience and they will consider the question of how to engage their audiences/participants with an array of techniques and approaches.
Pedagogy
In this course we will explore new approaches to Pedagogy in order to engage students one on one in ways that are more creative, authentic and self reliant. There will be an exploration of "Old School Teaching vs. New School" approach and the modern role of the teacher in the 21st Century.
Orchestral Repertoire for Flutists
A detailed and practical study of the orchestral repertoire for flute with the
goal of preparing the students for the rigorous discipline of orchestral auditions and the
musical demands of orchestral playing. The class will be conducted Master Class style and each student will be expected to prepare, memorize and perform at least two of the major orchestral excepts at every class and be prepared to talk about the interpretation of said excerpt drawing from at least 3 different major orchestral recordings.
Career Development
The objective of this class is to help students realize and create the necessary materials relevant to marketing and publicizing project based careers in the 21st century. Students will go through a series of musical, psychological and pedagogical exercises in order to choose, perform, document and broadcast repertoire that connects them with what they want to communicate to the world as artists in the 21st Century.
Project Development
Admission Requirements
In order to apply to The Granados Music Institute, please review the following steps for admission. Please do not hesitate to contact us if you have any questions during this process. We look forward to receiving your application!
Step One: Application
Complete the online application, including two letters of recommendation.
Please click here for the Application Form.
Step Two: Recorded Audition
Send recordings of the following repertoire to:
admissions@granadosmusicinstitute.com
At least one recording must be a video recording. YouTube unlisted links, or Soundcloud links are acceptable. Recordings must be made within the last year, and clearly marked with the applicant's name and recorded work.
1: Two contrasting works or movements from standard flute repertoire.
2: One major scale (three octaves), played twice through: once in forte and once in piano.
3: Three standard orchestral excerpts of the applicant's choice. Selections must be contrasting in style.
Step Three: Interview
Applicants who pass the recorded audition will be asked to participate in a skype or phone interview.
Events
[event_embed from="2015-05-01" to="2114-07-31"]
About Flagstaff
The city of Flagstaff is Arizona's "High Altitude" town. At 7,000 feet elevation, this northern Arizona city is located at the foot of Arizona's tallest mountain range, the San Francisco Peaks and is surrounded by 1.85 million acres of the Coconino National Forest. Residents of Flagstaff enjoy all four seasons, and there is no shortage of outdoor recreation and sports opportunities, from 80 degree (avg temperature) summer hikes to skiing at the Arizona Snowbowl ski resort in the winter. As a destination city for visitors to the Grand Canyon and Sedona, including its close proximity to 3 National Monuments, Flagstaff was ranked No. 7 in Outside Magazine's "16 Best Places to Live in America" in 2015.
Flagstaff was also recently named the No. 1 Small College Town With Great Quality of Life (BestChoiceSchools.com). Its vibrant music and arts scene include the Flagstaff Symphony Orchestra (celebrating its 67th season), the Coconino Center for the Arts, and the Fort Tuthill Amphitheater. Multiple art galleries, restaurants, and independent shops can be found in downtown Flagstaff and along Historic Route 66.
Faculty Bios
MARCO GRANADOS, FLUTIST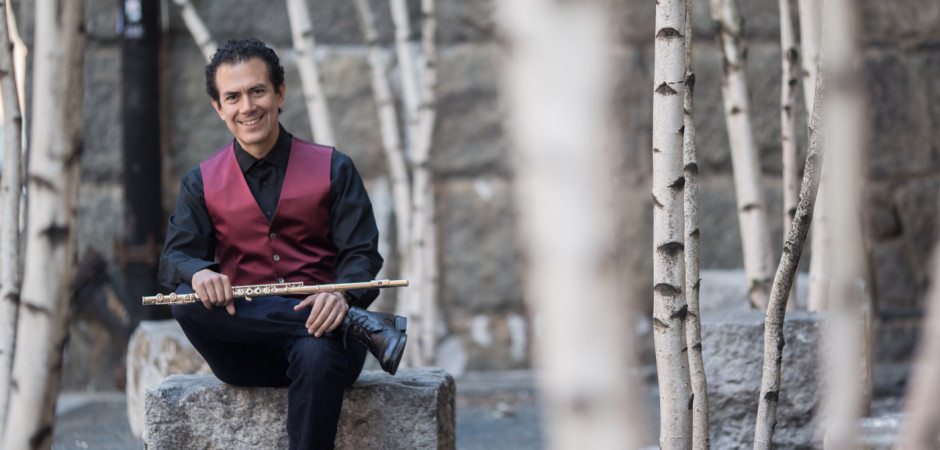 Marco Granados epitomizes the 21st century musician, maintaining a versatile career as an innovative chamber and orchestral musician, an international concerto and recital soloist, and a lead teaching artist and educator. He is one of the world's leading flutists on Latin American music, and his diverse repertoire spans from folk to classical music.
Since his New York City debut recital at Carnegie Hall's Weill Recital Hall in 1991, Mr. Granados has gone on to perform in Carnegie Hall's Stern Auditorium for "Sonidos Latinos", a celebratory festival of Latin American music. He has performed the Jacques Ibert Flute Concerto and the Mozart Concerto for Flute and Harp with the New York City Symphony at Lincoln Center's Alice Tully Hall and Merkin Concert Hall, and has been a featured soloist at Wigmore Hall in London. Mr. Granados has performed with many of the leading symphony orchestras in Venezuela, his native country, premiering both the Jacques Ibert and Aram Khachaturian flute concerti with the Maracaibo and Venezuelan Symphony Orchestras. In Peru, he gave the South American premiere of the Concerto for Flute and Orchestra by Mexican composer Samuel Zyman with the Philharmonic Orchestra of Lima. As an international soloist, his performances have taken him all over the world, including South Africa, Slovenia, Scotland, Japan, and China to name a few.
In the United States, Mr. Granados has frequently been a featured artist at the National Flute Convention, flute associations, and multiple artist series. Highlights of his 2016 and 2017 season include solo recitals at the New Jersey Flute Society, the Colorado Flute Association, the Arizona Flute Society, and the Utah Flute Association. Other solo recitals this season include performances at the Wilson Center in Milwaukee, the Art Institute of Chicago, the Suzuki Association of the Americas Biannual Conference, Four Seasons Arts in Oakland, and the Chamber Music Society of Detroit.
Mr. Granados has served as principal flute with The New York City Symphony Orchestra, Opera Northeast, and L'Orchestra in the Berkshires, and as associate principal flute with the Venezuelan Symphony Orchestra. In New York City, he performed with the Mostly Mozart Festival, and on Broadway for the musicals Miss Saigon, Annie, Showboat, and The Sound of Music.
An avid chamber musician, Mr. Granados has performed at The Chamber Music Society of Lincoln Center, the Chamber Music Society of Detroit, and with such distinguished artists as clarinetist Paquito D'Rivera, flutist William Bennett, flutist Ransom Wilson, harpist Nancy Allen, and oboist Heinz Holliger. He is a founding member of the chamber ensemble Classical Jam and has been a member of many critically acclaimed ensembles, among which are Triangulo, a Latin American Chamber Trio, and Quintet of the Americas. While with Quintet of the Americas, he performed at Carnegie Hall, The Bermuda International Music Festival, Chamber Music Northwest, Alice Tully Hall and Merkin Concert Hall.
On radio broadcasts, Mr. Granados has been featured nationwide as both a host and performer on NPR's "Performance Today". With host Fred Child, he was the featured artist for the program "Around New York" on WNYC. Other radio appearances include live performances on WQXR in New York City with Classical Jam.
Mr. Granados can be heard on such recording labels as CRI, Chesky Records, MMC Records, Koch World, XLNT Records and Soundbrush Records. His solo recording are: "Music of Venezuela", virtuoso flute music by living Venezuelan composers; "Luna", a romantic serenade of songs from Venezuela and South America for flute and guitar; "Tango Dreams", a compilation of works by Astor Piazzolla; and "Amanecer", a collection of Venezuelan flute favorites.
A devoted educator, Mr. Granados is a professional teaching artist, having hosted, presented and developed programs for Lincoln Center Education, Chamber Music Society of Lincoln Center, The New York Philharmonic, and Carnegie Hall to name a few. Mr. Granados has been on faculty at the Longy School of Music of Bard College in Boston. Most recently, he is the founder of The Granados Music Institute, a training program to educate young professional flutists in 21st century skills. Marco Granados is a Haynes Artist, and is proud to be playing a custom hand-made flute by the William S. Haynes Flute Company.
Anna Conigliari, Flutist & Life Coach
Anna Conigliari is a professional flutist and life coach. As a coach, she is trained through the Institute for Professional Excellence in Coaching (iPEC) program. Most recently as a coach, Anna has given workshops on high performance and performance anxiety for musicians at the New Jersey Flute Society, Montclair State University, the University of Massachusetts-Amherst, Longy Conservatory, and The Integrated Flutist.
Anna has been a member of the flute section of the Flagstaff Symphony Orchestra and is also the recipient of the prestigious Kenan Fellowship at Lincoln Center Education in New York City where she was trained as a Teaching Artist. An advocate for education, Anna has worked and performed with the Phoenix Symphony Orchestra education department, creating aesthetic and interactive performances. While in Phoenix, Anna also served as an intern with the Arizona Commission on the Arts. She holds an M.M. degree from the University of North Carolina School of the Arts where she served as the flute TA, and was awarded a full music scholarship for her B.M. degree from the University of Colorado at Boulder.
Photo Gallery: Classes & Performances